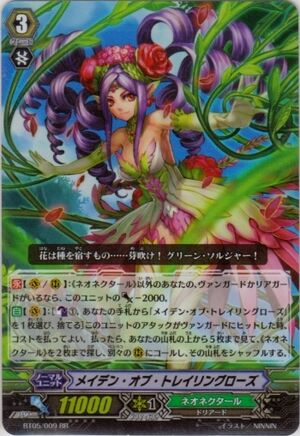 CONT 【V/R】: If you have a non «Neo Nectar» in your Vanguard Circle or Rear-guard Circle, this unit gets Power -2000.
AUTO 【V】: [Counter Blast (1) & Choose a "Maiden of Trailing Rose" from your hand, and discard it.] When this unit's attack hits the Vanguard, you may pay the cost. If you do, look at the top five cards of your deck, choose up to two «Neo Nectar» among them, call them to separate Rear-guard Circle, and shuffle your deck.
OK...this card has a great persona blast that lets u look at the top 5...and call 2 from the 5. This skill is an awesome way to make more atkers or boosters if u didnt have any already. But then again...the opponent would be like WTF as if im letting that hit...which will most likely be the case BUT i found an easier way to make it hit 0_0. well theres an easier way...a card named :
Fruit Basket Elf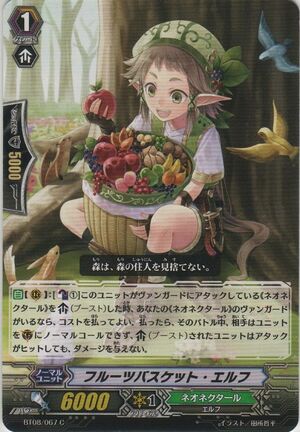 [AUTO](RC):[Counter Blast (1)] When this unit boosts a «Neo Nectar» that attacks the vanguard, if you have a «Neo Nectar» vanguard, you can pay the cost. If you do, your opponent cannot normal call units to (GC) until end of that battle. If the boosted unit's attack hits, your opponent receives no damage.
i know what some of u are thinking ''OMG NO DMG...WHATS EVEN THE POINT...?'' well...the point is to let the vg hit...then use persona blast. also if u want to take dmg just dont use the cb lol its that simple.
now...back the the maiden.
her persona plast can be deadly as it makes more atkers to atk with that turn. even better is that u can check the top 5 and CHOOSE which 2 to pick and call. so its a little more stable than ezel's LB and other cards like it.
this card is also good backup in a sephirot themed deck as it can easily call units with the same name as another maybe even 2, making sephirot's LB even more powerful

and th...th...th...th...th....thats all folks XD
-
neos #1