ok well first of all...i thought this place needed more things to talk about so ill just take on the title ''BSA reporter'' if u guys dont mind lol but either way...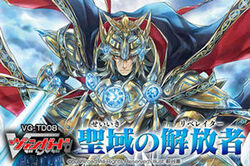 so that trial deck 8 named liberator of the sanctuary it includes
A constructed deck built of 50 cards.
There are 17 different cards.
The deck includes 1 RR and 2 R cards.
Includes cards used in Season 3 of the Cardfight!! Vanguard Anime
point 3 confirms one thing...there will be a season 3 and i heard that the clans WILL BE RELEASED by then. but back on topic...we see gancelot cosplayin GP colors and a new (very stylish) helmet lol
and next :
trial deck 9 : Eraser of the empire
that name sounds really freakin awesome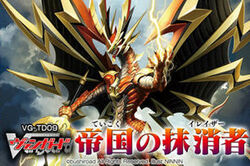 on that one thats most likely (probably is) thunder break dragon just not as sketchy lookin that the card we have now. It contains the same stuff as trail deck 8 so again...were gettin a season 3

really gets me to wonder what tourney Q4 will be in next 0_0
P.S if i find the link confirming the clans will be freed by season 3 ill post that as another ''talk-topic'' ooo that has a nice ring to it

*names titles ''talk-topic''*